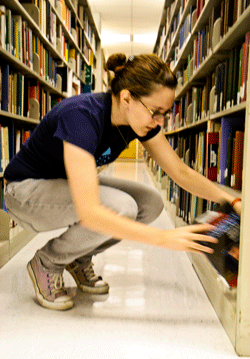 INSTEAD OF HAUNTING the campus mailroom every day hoping for a sympathy check from some stray relative, consider getting a job on campus. An on-campus job won't devour all of your social and academic life. Instead, it can give you the cash you need without interfering with your classes and a chance to meet new people.
If you're looking for an engaging and enjoyable place to work, the Patriot Center may be your best bet. The Patriot Center offers flexible scheduling, a modest starting wage and a promise that no two days will be the same.
"It's a great place to work–they're really flexible with schedules. I hand in my [school] schedule every month and they let me know what events are going on," said sophomore Val Shultz, who has been working at the Patriot Center as an usher for two semesters. "I just have to work at least 30 percent of the events every month, so if I have exams or other plans, I can fit my work schedule around them."
While being a Patriot Center employee may not be the highest paying job on campus, it provides less tangible rewards such as free admission to concerts and shows. "When there's a basketball game or concert that I like, I'm getting paid to enjoy myself," Shultz said.
If you value your eardrums far too much to work at the Patriot Center, Fenwick Library is a great substitute. Even though you won't get to rock out or cheer on the basketball team (unless you do so while helping them find a book), Fenwick Library offers a relaxed work environment, spending money and the opportunity to learn while you earn.
"I started working there just as a way to earn extra money," said junior Emily Fink, a four-semester veteran at Fenwick. "The biggest perk is that they're close and they're very flexible as far as scheduling and school."
Fink's title as student assistant includes shelving, shelf reading and discharging books. Looking around Fenwick, you can see how easygoing and relaxed student employees are. At the checkout desk, you might catch them doing coursework or reading their favorite books, or you might find them bobbing their heads to Taylor Swift blasting through their iPods while shelving books.
While the Patriot Center and Fenwick Library are fine for bringing in a couple of extra dollars, jobs related to your major furnish your résumé and keep you interested. Logan Duvon, a junior majoring in psychology, was pleased to learn she could expand her studies at the Child Development Center on campus.
"I love children, it was close and easy to get to and [the children] were in the perfect age range [I planned on working with]," said Duvon. Through her experience as a teacher assistant, Duvon determined the focus of her studies. Along with helping two-year-olds with their letters, doing math and playing games, Duvon worked with an autistic child.
"Spending time with him really made me realize that I wanted to work with kids who have special needs," Duvon said.
Senior Pat Money is another Mason student furthering his education through his on-campus job. Referred to his current position with the Office of Admissions as client services trainer by a friend, Money enjoys working closely with the George Mason University administration for the inside knowledge it provides and the competitive pay he receives.
"I work [at the Admissions Office] because of what the office is responsible for, helping students get into college and further[ing] their education," Money said. 'It's something I have a passion for and the office is a great working environment."
Between the convenience of location and the consideration to course schedules that Mason employers give, most jobs on campus automatically have an advantage over other jobs in the area.
Where you decide to work on campus all comes down to what you want out of a job. With almost all campus jobs, you can expect a schedule that fits your course load, great pay and maybe even a new group of friends in your coworkers. If you're looking for more than just pocket money, you'll have to figure out which campus office best suits your career goals. An accounting major might consider looking for a job with the Office of Financial Aid while a communication major might find a good fit with one of the organizations in the Office of Student Media.
Regardless of what you pick, the verdict is the same: working on campus will give you enough dignity to stop begging relatives for money, plus a flexible schedule that won't hurt your academics or your social life.
Written by Owen Ito, VoxPop Staff Writer
Photo by Grace Kendall